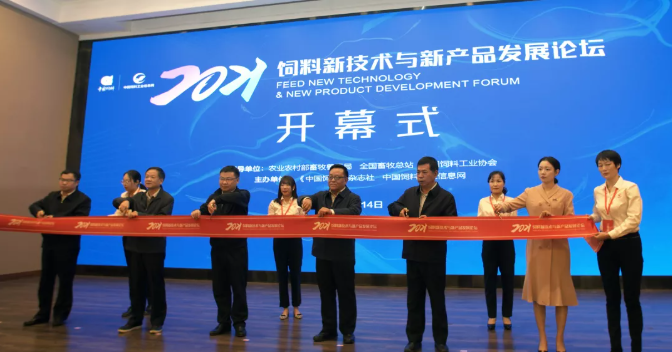 Guo Gantong, Vice Chairman, Wang Feijie, Secretary,
Academician Yao Bin, Stationmaster Wang Zongli and Deputy Director Wei Hongyang cut the ribbon for the opening ceremony of the forum
Sponsored by The Animal Husbandry and Veterinary Bureau of the Ministry of Agriculture and Rural Affairs, National General Station of Animal Husbandry, China Feed Industry Association, China Feed Magazine, China Feed Industry Information Network, The 2021 Forum on New Feed Technologies and Products was held in Beijing, jointly organized by Institute of Animal Science and Veterinary Medicine, Feed Research Institute, National Feed Quality Inspection and Testing Center (Beijing) and Institute of Biotechnology, Chinese Academy of Agricultural Sciences. Centering on the theme of "New trend, new technology, new opportunity and new development", the forum gathered nearly 600 people from 17 provincial feed quality inspection centers, 8 provincial feed industry associations and media, including government leaders, industry experts, well-known scholars and enterprise representatives of the domestic animal feed industry.
The Chinese Academy of Engineering in dragon, extracellular, agricultural NongCunBu hong-yang wei, deputy director of animal husbandry and veterinary bureau, the national animal husbandry station stationmaster, China feed industry association executive vice President and secretary general wang, Beijing animal husbandry and veterinary research institute, Chinese academy of agricultural sciences yu-chang qin, the Chinese academy of agricultural sciences agricultural quality standards and testing technology research institute party committee secretary Wang Feijie, The conference was attended by Huang Qingsheng, director of the Feed and Forage Division of the Animal Husbandry and Veterinary Bureau of the Ministry of Agriculture and Rural Affairs, and Mimo Yuming, dean of the College of Animal Science and Technology and deputy director of the State Key Laboratory of Animal Nutrition of China Agricultural University.
Guo Gantong, Vice Chairman, Wang Feijie, Secretary,
Academician Yao Bin, Wang Zongli respectively addressed the conference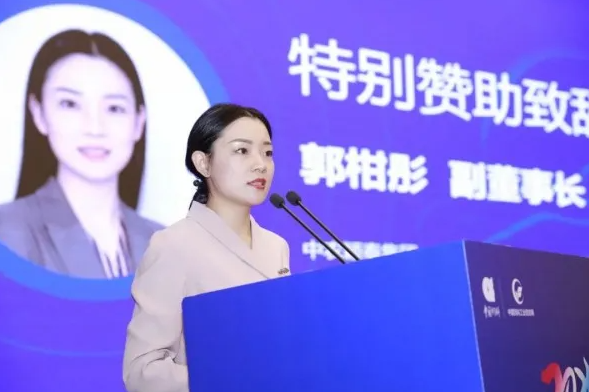 Zhongnong Yingtai Group vice - chairman Guo Gantong speech
Guo Guantong, vice chairman of the board, elaborated on the application research and development and scientific and technological innovation of new technologies and new products of Zhongnong Yingtai in recent years.
Zhongnong Yingtai entered the animal husbandry industry in 2008 through cooperation with the "cecropin antimicrobial peptide" project of the National Feed Engineering And Technology Center. Up to now, after 14 years of ups and downs, invested more than 1 billion capital, in Linzhou City, Henan Province, established an area of 1037 acres of industrial base, with domestic biological fermentation, fine chemical, veterinary GMP production lines. The science and Technology building of the Key Laboratory of Antibiotic Substitution Technology of the Ministry of Agriculture and Rural Affairs is now under construction.
In June 2010, the first phase of our project was put into production. At that time, in order to ensure the smooth progress of the project, we not only introduced the capital team, but also introduced Chinese-American scientists, set up a pharmaceutical research team in Zhongguancun Biomedical Park, and established the detection method of antimicrobial peptides.
After a few years, our r&d is unusual hardships, the ups and downs, after the first failure on antibacterial peptide, all related team after leaving office, we are holding the national feed engineering technology research center of scientific research platform "dragontech ark company", at the same time introduced the molecular biology team, Dr Depth development has been carried out for new antibacterial peptide, After more than 10 years of persistence, failure, hold on, fail again, in more than 70 scientific research team, under the painstaking research of antibacterial peptide, we finally successfully developed three antibacterial peptides identified the three primary structure, secondary structure and tertiary structure, established a method of HPLC to detect the contents of antibacterial peptides, the quality standard of antimicrobial peptides is determined.
We cooperate with domestic famous fermentation technology research team, after numerous small and pilot tests, now, zhongnong Yingtai antibacterial peptide fermentation technology has reached the international level.
At the beginning of its establishment, ZHONGnong Yingtai has established the core values of "let antimicrobial peptides benefit all mankind". In the future, we will continue to adhere to scientific and technological innovation, respond to China's animal husbandry "anti-prohibition, anti-limitation and anti-non-resistance" policy call, to bring more new products and new technologies to the industry. In addition, we will also carry out in-depth research and development in the fields of food, health care products, cosmetics and biomedicine, and strive to fully introduce antimicrobial peptides into People's Daily life in 5 to 10 years, reflecting its due role and effect, and truly realizing the grand goal of "making antimicrobial peptides benefit all mankind".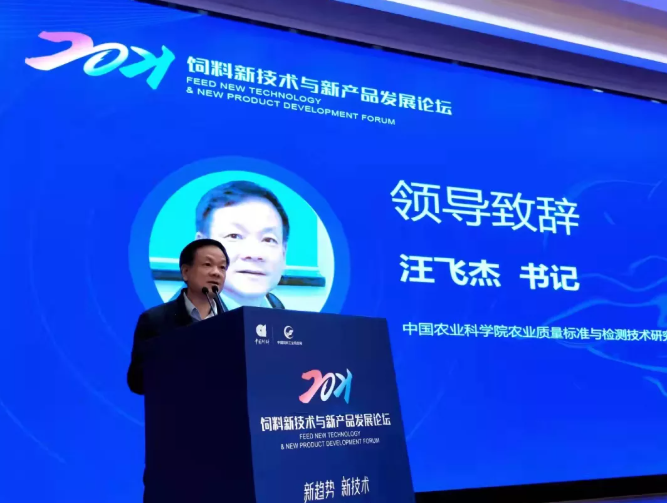 Agricultural Quality Standards and Testing, Chinese Academy of Agricultural Sciences
Wang Feijie, party secretary of technical Research Institute, delivered a speech
Secretary Wang Feijie said in his speech that in the future, the Institute will further strengthen the cooperation with feed enterprises, strengthen scientific and technological support and guarantee, and make due contributions to the healthy and sustainable development of China's feed industry.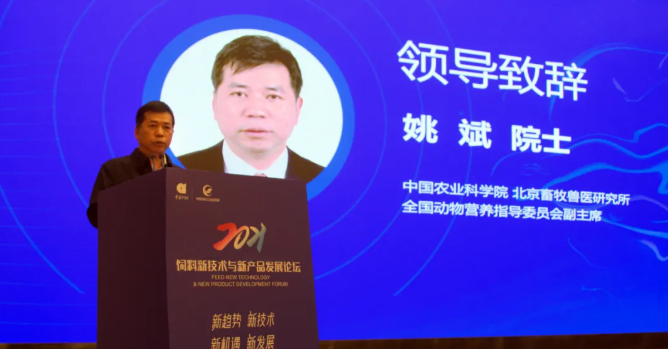 Chinese Academy of Agricultural Sciences Beijing Animal Husbandry and Veterinary medicine
Academician Yao Bin delivered a speech
Member of extracellular said in his speech, during the period of "difference", we in the feed, feed nutrient utilization regulation for resistance reduction, intelligent precision feeding, health, environmental control, and other fields has been layout tasks, science and technology innovation to keep up with development demand of the feed and aquaculture, continue to carry out technological innovation, to feed the healthy and stable development of energy industry.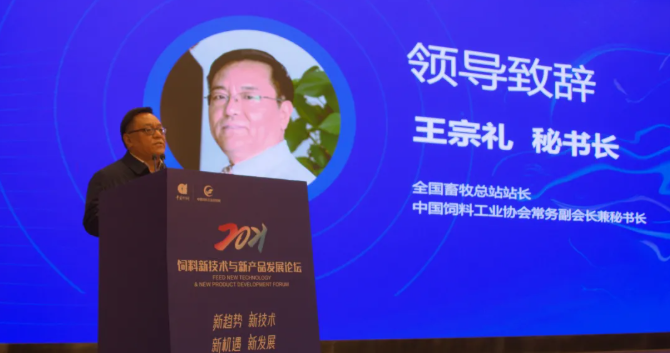 National animal husbandry station master China Feed Industry Association
Executive Vice President and Secretary General Wang Zongli delivered a speech
Wang Zongli stationmaster said in the speech, during the "fourteenth five", agricultural and rural work in the overall economic and social development of the positioning is "to ensure the security of solid, revitalization chang cycle", as an important link in the agricultural industry chain, the development of the feed industry should also be around this positioning.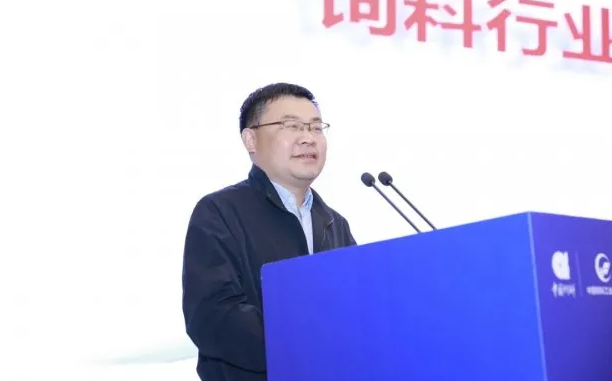 Wei Hongyang, deputy director of animal Husbandry and Veterinary Bureau of Ministry of Agriculture and Rural Affairs
Make "feed industry development prospect" report
Wei Hongyang, deputy director of the feed industry pointed out that the new growth space in the future lies in: first, to vigorously develop modern feed industry; Second, to shape the new advantages of feed additive products; Third, we will open up new space for going global.
In the next step, in promoting the innovation and upgrading of feed additives, we will strictly implement the safety standards for the use of feed additives, and strengthen supervision over the use of copper and zinc in feed with excessive dosage according to law. Promote the innovation of new products of microorganism and its metabolites, functional plants and their extracts.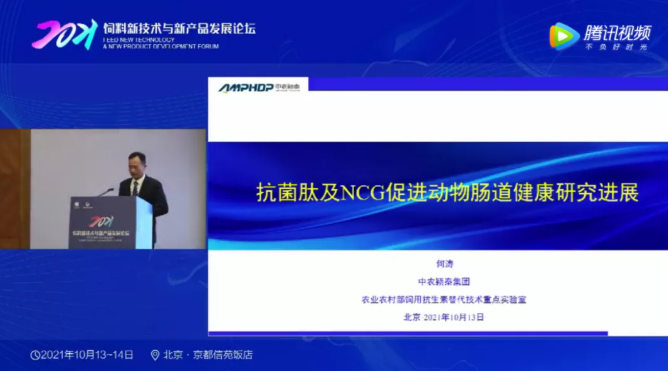 Key Laboratory of Feeding Antibiotic Substitution Technology, Ministry of Agriculture and Rural Affairs
Executive Deputy director He Tao, "Antimicrobial peptides and NCG promote animal intestinal tract.
Special report on Advances in Health Research
Director He Tao has long been responsible for the research and development of antimicrobial peptides and the application of feed additives and new veterinary drugs. He has undertaken a number of provincial and ministerial scientific research projects and has rich experience in product research and development. He led a r&d team of more than 70 people, after more than ten years of research and development, made a number of achievements. Through a series of data studies, it has been proved that antimicrobial peptides have positive performance in promoting intestinal health of animals. With bacillus subtilis and their metabolic products as the main component of YingTai no. 1, no. 2 and no. 3 series of products, with "high efficiency, clear structure and test method of science, obvious effects of using" advantages, and take the lead in setting the antimicrobial peptide product quality inspection standards, for our country "no resistance" policy implementation and the development and application of "no resistance" products made outstanding contribution.
In this forum, Yin Yulong, Yao Bin, academician of Chinese Academy of Engineering, Zhang Junmin, deputy director of Institute of Animal Husbandry and Veterinary Medicine of Chinese Academy of Agricultural Sciences, Wang Jianhua, researcher of Feed Research Institute of Chinese Academy of Agricultural Sciences and other experts and scholars made reports on the research and development of 2021 feed new technology and new products at the conference.
The conference was simultaneously broadcast by 15 media and 9 media live platforms. The livestream was watched by more than 100,000 people.
About us: